Assalamualaikum and annyeong!
What's up babys? B.A.P's fever masih terasa. Entah jampi ape yang alien dari planet MATO tu bagi, LOL~ Ok, back to the title. DaeJae? Kenal tak? Kalau baby mesti kenal kan. Kalau tak kenal, meh sini nak bagitau :-
This is Daehyun
This is YoungJae

DaeJae
Dah kenal? *nod-II. Bagus. Kalau nak tahu dalam B.A.P, 'couple' ni la yang paling femes gitu! Walaupun ada couple lain dalam group ni macam BangHim/ YongChan (Bang Yongguk & HimChan), tapi NS rase DaeJae couple ni la yang paling sweet dan akan buat korang rase nak *pengsan.
Maybe umur dieorang dekat-II kut. Tu yang terlebih rapat tuh~ Btw, memang sweet la DaeJae ni. Siap ada lagu
ice cream
lagi nyanyian YoungJae. And, and cameramanye sape? Of course la, Daehyun. Kat bawah ni ada video lagu ice cream tue~
Faham tak dieorang cakap ape? Kat bawah ni ada translate :-
Young Jae: Choco ice cream say~ I say choco, you say ice cream! Ice cream!


Dae Hyun (he's holding the camera): Shut Up!




Young Jae: Choco!


Dae Hyun: Shut up!


Young Jae: I say vanilla, you say ice cream~ Vanilla!




Dae Hyun: Shut Up!




Young Jae: Vanilla!


Dae Hyun: Young Jae pabo (fool/silly)
Best kut suara Daehyun time cakap "shut up"!
Then, kat bawah ni NS sediakan pics DaeJae ni >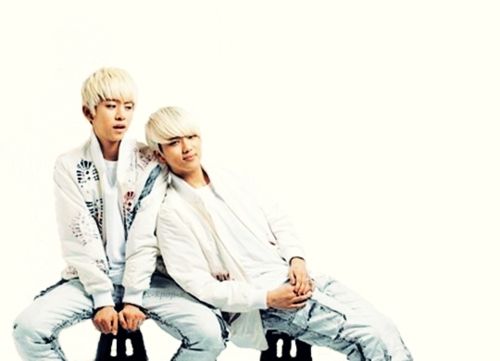 *Dae buat-II tak suke pulak
*pandang sape?
*we're warriors
*one SHOT
*EPIC!
*jealous maybe?
*Stop it~
*Abuuuuu gann!
Actually, NS dah lame perhatikan moment DaeJae ni. Baru sekarang nak buat entry pasal dieorang~ Kalau korang refer entry
INI
, NS dah buat moment pasal MyungYeol. Walaupun tu segmen, bolehla kira macam entry NS. Kekekeke.
Sampai sini je NS nak membebel.
Maybe couple ni tak seSWEET HunHan, MyungYeol, EunHae, Baekyeol dan etc. But, korang support jelah DaeJae ni~ (*haha)
Ppyeong!